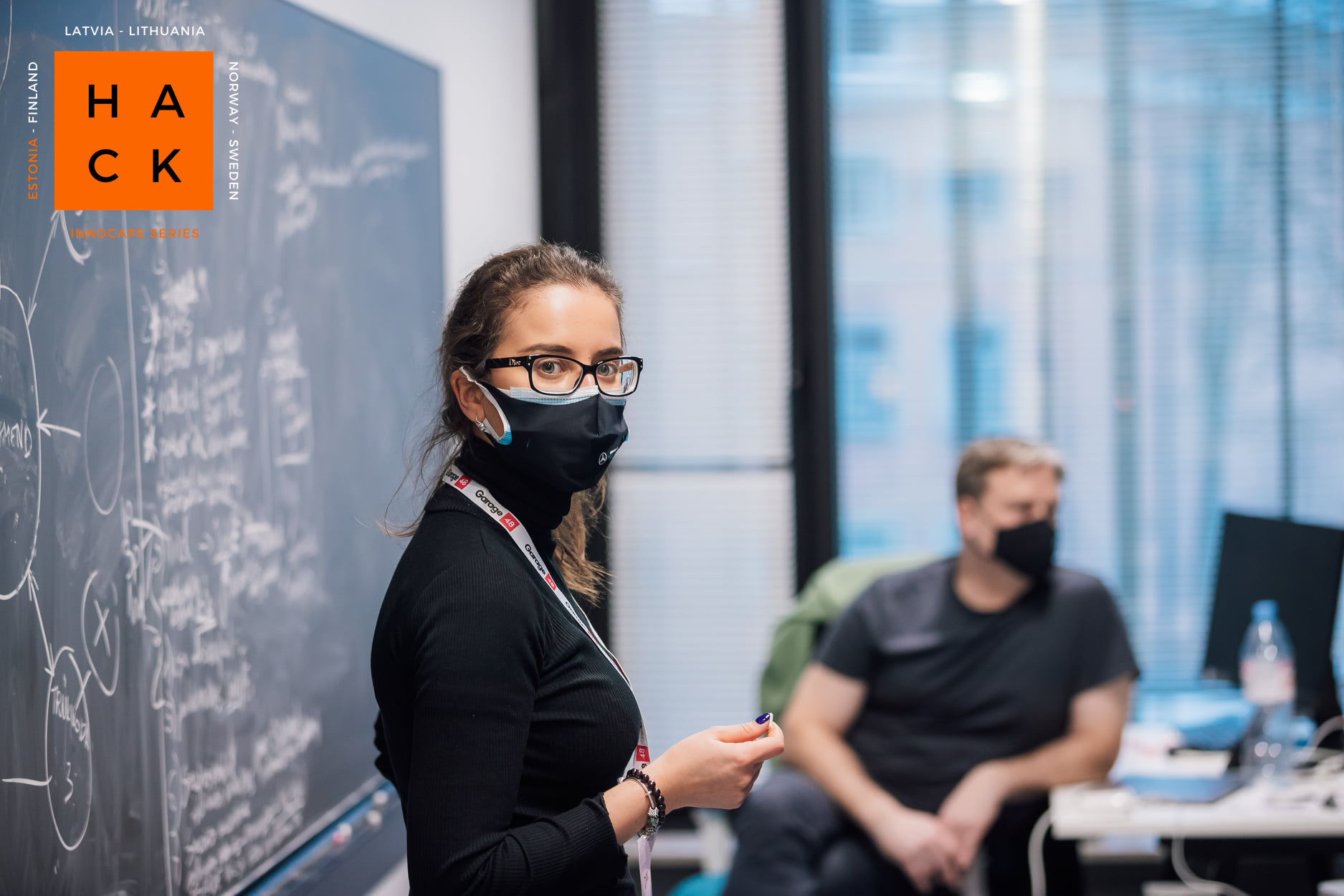 21-23 January Estonian partner of the InnoCAPE project, the University of Tartu Institute of Computer Science, kicked-off the series of InnoCAPE hackathons. Preparation of the event took 5 months and 4 strong and motivated partners –  University of Tartu Institute of Computer Science, an institute that is recognized as number 176-200 by the prestigious Times Higher Education; one of the most experienced  events series organiser there is in Estonia Garage48; leading management consultancy across the Baltics and Eastern Europe CIVITTA and Development Centre in Tartu city that works closely with SMEs on a daily basis Tartu Business Advisory Services.
As the COVID19 had also a significant impact on manufacturing industry, digitalisation has become even more important topic in Estonia and more companies are exploring the options of implementing different digital solutions into their daily business. When planning the hackathon, it was aimed to have challenges that would provide solutions in one of the seven key technologies of digitalisation – social media, mobile services, cloud technologies, internet of things, cybersecurity, robotics and automation, and big data analytics. By the time when the registration ended, there was 12 ideas and 69 people, who were eager to start working together. Among others there were following teams and challenges:
E-tellimus – the team had 5 members and they worked on creating a cloud-based environment for users, customers and companies that are interested in buying/selling their products. The solution's goal is to digitalise the inquiry/order management process, automate notification/information flow, digitalise document management and eliminate the paper use in the supply chain. They did such an amazing job during the hackathon that judges announced them as winners of the hackathon.
PLASTOK – the 7-member team worked on creating a paperless environment in production through data digitization and integration. They wanted to make production more efficient through digitalisation via early detection and prevention of errors, avoiding double entry of data, creating a very good overview of all processes that involve production. The team achieved a second place in the hackathon finals.
Timber Building Virtual Factory – the team presented a challenge that is faced by numerous Estonian factories of wooden house manufacturers. The team was represented by Estonian Woodhouse Association that is consolidating the Estonian factories of wooden house manufacturers to produce wooden cities in Europe. They are aiming to build a digital tool (a system) that could give Estonian companies an advantage when making a joint bid to the European market. They had a 7-member team to work on a challenge and achieved a 4th place in the finals.
The preparations for the hackathon began early on in order to have a hybrid event and make it as safe as possible. Hybrid event means that we had team-members present both online and physically. Each team was placed in a separate room, with no more than 4 people physically present per team with all the necessary disinfectants and masks provided by the organizers. As the team-members could not leave the team rooms for trainings and pitchings that took place at the main stage, the participants watched the broadcast of the main stage on a big screen in their rooms. Even the food was delivered at each team room, to minimize contact with other event participants. The members, who attended the hackathon remotely used online platforms, mainly Zoom and Eventornado.
The event went was a success and the teams gave positive feedback saying that they got lots of valuable mentoring and will continue working on the development of their ideas. We were very lucky to have very strong and experienced mentors, to name a few: Christoffer Andresen, Harri Tallinn, Janno Siimar, Lauri Antalainen, Veeli Oeselg, Kadri Kõivik.