Online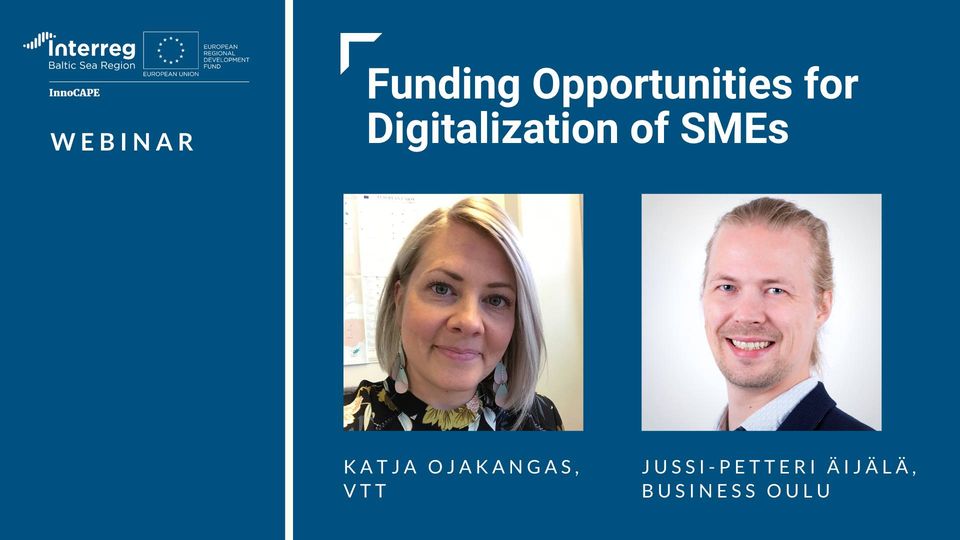 SMEs face an intriguing challenge, but also a vast opportunity in implementing digital transformation. One of the most frequently asked questions is how to acquire funding for such activities. The recording of the webinar offers an insight of available funding opportunities for digitalization – both from regional and international perspective, thus encouraging SMEs to apply such funding for their digital journey.
The first speaker is Jussi-Petteri Äijälä who is a specialist in the field of company finance and funding at BusinessOulu. BusinessOulu is a city-owned regional development organization that supports local companies in business development, innovation, digitalization, funding and internationalization.
The second speaker is Katja Ojakangas, the Manager for Operational Support at VTT – Technical Research Centre of Finland. She has more than 10 years of experience with different EU funded projects, and in the last years, Katja has worked mainly with EU R&I Programme and Policy management in the Knowledge Intensive Products and Services business area. VTT is one of the top research and innovation organizations in Europe and participating actively in the EU R&I projects. VTT is closely collaborating with the Finnish and European industries to drive Europe's growth and prosperity through innovations.
Find speakers' materials here and the link to tune into our last webinar is just below:

This webinar is part of a series consisting of six webinars taking place within the framework of the InnoCAPE project, which designs a cooperation model to develop a digital innovation ecosystem in the Baltic Sea region and enhances the capacity of digital innovation hubs (DIHs) in the Baltic Sea region. Read more about the project here.